February 15th, 2016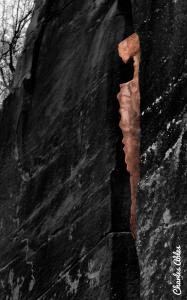 I am vaguely familiar with the Native American's stories of their emergence; one of my favorite, the Hopi's emergence into our world from Ribbon Falls in the Grand Canyon. Recently, Sally and I had visited the V Bar V Heritage Sight and the petroglyphs nearby, and we were fortunate to have a group of tourist's arrive led by an archeologist knowledgeable about these petroglyphs. He explained the many possible meanings of what we were looking at; as well as, the possible meaning of this rock figure in the photograph, the emergence of the Sinaqua into the world. Fascinated by this I looked around me at the terrain; to be certain, life for the Sinaqua between AD 1150 and 1400 would be a challenge to farm, hunt, and exist in this neck of the woods of Arizona. However, I wondered giving the state of our world today, would the Sinaqua's Deity 'Emergence Into Our Dark World'?

February 15th, 2016
We got to the West Clear Creek trailhead about mid-afternoon. A late start to be certain; however, this was a leisure day for us and so we also spent some time at the V Bar V Heritage Site to see the petroglyph before arriving. Presentation of this will be soon be coming to this channel on YouTube. Nevertheless, we wanted to see some flowing water in a creek and was rewarded with a pleasant hike. Click the below 'For more information' to see video.
February 1st, 2016
A time lapse video from last night as a winter storm brewing unfolded outside our home; with winds, lightning, thunder, and a bit of rain. So I went upstairs, set up my camera in the hopes of photographing a lightning bolt. However, I was disappointed when reviewing the photographs and thought I should have adjusted the shutter speed faster. Nevertheless, I thought it would be cool to create a time lapse video.
December 26th, 2015
Over the past several weeks I have been working on a documentary short about our six barnyard cats and in so many words how wonderful it was to take care of them. However, Fluffy, the matriarch, huntress, gentle, affectionate, loving, is the last of a family of six wonderful cats we are taking care of. Alone, she loves to spend time with me now as we sit together outside, follows me in the front yard and no matter how hard we try to get her to stay in our home; if only briefly, do not shut the door closing off her escape.

And so this piece of video is the last segment I was considering for my presentation. But I thought it was a bit much, and decided to make this a short to stand alone for my You Tube channel; a trailer as it were.

Please click below to see my video.

December 24th, 2015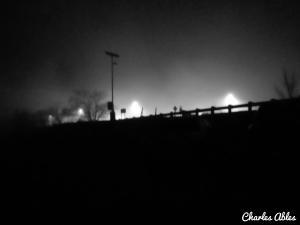 Yesterday was a foggy morning driving to work, as it is this Christmas Eve morning with another cold storm moving in this evening. Having said that, when I parked in the lower lot at work yesterday, I couldn't help but take some photographs of the parking lot above. It was a bit of a challenge with my point and shoot camera; however, with a bit of editing, I am happy with this shot. Stay warm and safe all.

December 20th, 2015
Photography and videography; both a challenge and one where I have a problem balancing. Presently, I am working on a short video I hope I am happy with and enter it into the Prescott Film festival. Working on the video has been a challenge to say the least; I am editing the forth revision now; yet, in many ways still rewarding.
The one thing I have notice though; over time, I see my practice as an amateur photographer taking the back seat as I obsess over the production of my short video. It is not the first time and I would imagine it will not be the last time. However, I am very mindful of it.

November 8th, 2015
Today at http://chuckables.artistwebsites.com/index.html I opened a new gallery titled 'Convalescent Leave'. This is where between September 2nd and October 14th, 2015, I had taken FLMA from work after a double hernia operation. During the six weeks of taking it easy, I decided as an amateur photographer I would hone my skills a little bit. My Convalescent Leave Gallery displays some of my works while recovering. Enjoy and happy hiking.

October 13th, 2015
It has been an interesting time since last writing and we won't get into that; instead, I will focus on the most current of events. One the hardest things in my day to day life, is having to work full time, anywhere from 8 to 10 hours a day, in order to make ends meet. And so, any desires to do anything above and beyond being lazy during my time off is placed on the back burner.

Almost six weeks ago, I had surgery for a double hernia. Go figure; I thought I was in pretty decent shape. But evidently, I'm am getting old and falling apart celebrating my 57th birthday September 12th. Having said that, I have been on FLMA and will return back to work this coming Thursday. What have I done with my time of recovery, beyond not lifting heavy objects, my daily naps, excessive snacking, and a couple of short hikes.

Well, I took advantage of the time to learn more about photography. And it is my hope that once I get back into the daily grind I will continue with my treks to show how wonderful nature all around us is. As well as, other interests.

And please visit: https://www.youtube.com/user/HikingAbe/videos
July 15th, 2014
Just finished editing the trailer of our epic Grand Canyon adventure. At the time of this writing Sally and Rachel are finishing their river run through the Grand Canyon and I hiked out yesterday morning after a four day journey. As of yet, I have no title for our presentation, nor time frame when I will finish it (I've giving myself three to six months), however, I know I cannot wait to see Sally and Rachel's photos/movies when I upload them on the P.C. So please, enjoy this short trailer, the soundtrack is titled Life on Earth, and is by Heather Fenoughty. And feel free to ask me any questions. Happy hiking.

http://youtu.be/ooCaF3Grql0?list=UU1Wfl3S8uluUGdifOCGo9eA

And please visit:
http://jeromeartists-davidson.blogspot.com/
http://www.nps.gov/grca/index.htm
http://www.riveradventures.com/